This is an adhesive skin, not a bulky case. We focus on making rad and original skins that are easy to apply and fit your device perfectly. 
You will receive two skins, one that covers the back and sides, and one that covers the back only. 
Simple installation process - if you mess up we will send you a new one!! 

Increased grip

Extreme scratch protection 

Guarantees zero air bubbles

No added bulk or weight

Absolutely NO residue left behind after removal 
Customer Reviews
Write a Review
Ask a Question
11/01/2020
Jessica G.
United States
Looks good but...
Looks good for about a week. Then it starts to peel up; especially around the volume and silent buttons. Doesn't offer any real protection. So maybe get a clear protective case to go over the phone.
08/01/2020
Michelle R.
United States
iPhone
I wish it lasted longer
07/22/2020
Jack
United States
Scam
Dropped my phone and the skin ripped immediately. Definitely can't withstand scratches from a drill.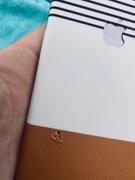 Hey Jack, It looks like the skin protected your phone from a scratch there! Our support has gotten a replacement mailed out to you so you can put a fresh skin on again! Keep in mind it takes 24 hours for the adhesive to fully adhere to the iphone.
07/07/2020
Meaghan P.
United States
Customer for life!
I've been using Fishskyn for a while now and I'm addicted. They are so easy to put on and remove. My only complaint is the cover for the SIM card on the iPhone doesn't come with the skin anymore. My first order had it and I feel like it made the outside edge stronger. That's where my hand rests and it often rips there after too much use.
06/22/2020
Courtney
United States
Great looking and feeling skin, corners ripped a bit
I really love the skins. I got Indy design for my new Macbook Pro and iPhone. The computer skin was easy to apply, and it's super cool. I love the way it feels. However, the iPhone skin corners stuck to the vacuum paper when i was trying to remove it, ripping the corners a bit. Not happy with that part.
Hey Courtney, seems like a simple error to make, with those corners you for sure have to be careful when first removing the skin. email our support at info@fishskyn.com and they can help you out.